Log, Timber Frame & Custom Homes
Extraordinary log, timber frame & custom homes, barns, commercial structures and heavy timber components.
See our video clip on Barnwood Builders that aired Sunday, April 5, 2020 on DIY Network!
Let Hearthstone Build Your Dream Home.
Decades of Leadership In All Things Heavy Timber
Stout-Vannoy Pavilion Lookout Mountain
Log Homes, Timber Frame Homes & Custom Homes...
In every style from fit to finish Turn Key taking care of everything required for you and far exceeding all expectations at every step along the way.
Our decades of experience is backed by our Unmatched Money-Back & Structural Guarantee. 
Hearthstone features an unmatched ability to create any imaginable style of custom, luxury, handcrafted Heavy-Timber or Log-Based Home or Commercial Structure.
Nobody in the world has the reputation, capacity, and experience —in one company— to deliver as we can.
The process of engineering, CAD/CAM Modeling, crafting, delivering, erecting, and constructing one of these wondrous buildings is not easy, and the cost of doing it wrong, or shabbily, or cheaply is high.
Our Unequaled, Money-Back Guarantee says it all about our confidence… and your insurance… that we can do the job right.
Get started by checking out our three featured floor plans
We Offer Three Broad Product Lines of Kindred Spirit…
All featuring highly crafted logs and timbers, and all rooted in the art and trade of the timberwright.
Recall the traditional log homes from the 18th and 19th century, featuring hewn-flat logs with dovetailed corners and chinking between the logs.
Feature heavy timber framework, exposed in dramatic interior spaces, combined with any imaginable interior style or exterior finish.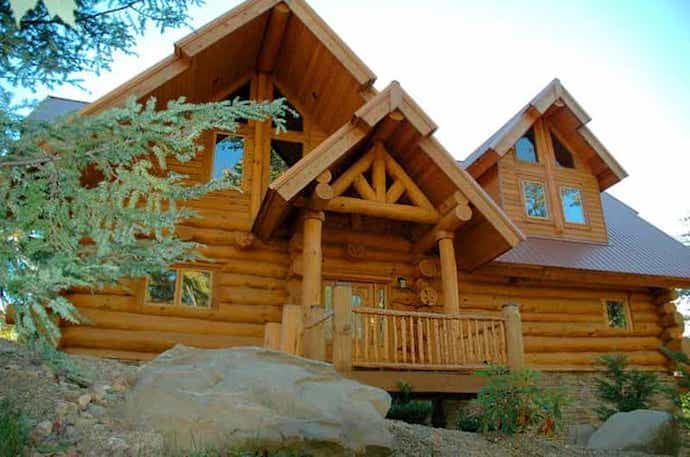 Evoke images of large mountain lodges with huge round logs, each carved to fit into the other.